‍What innovations can we expect next on Facebook? And given the developments associated with the iOS 14.5+ update, what should your company plan as part of its Facebook marketing strategy?
Last week, Dan Levy, Facebook's vice president of Ads & Business Products, gave an overview of the four key elements Facebook wants to maximize in order to be ready for the next generation of user behavior.
• Product and Business Discovery
• Ecommerce functions
• Business tools beyond marketing
• Privacy Enhancement Technologies
We have put together the most important information and valuable tips for you so that you can stay up to date in the constantly changing digital and social media world. Above all, Facebook with its products Instagram, WhatsApp and Messenger is known to be a true innovation incubator. So what can we expect?
What is happening in the social media marketing landscape right now?
Businesses are faced with a permanent shift in consumer behavior: A migration to e-commerce that would have likely taken a decade under regular circumstances has exploded in a year due to lockdown!
This - combined with the ever-evolving technologies - is a generational opportunity for our e-commerce industry to once again innovate. Especially when it comes to meeting consumer expectations for privacy protection. We need to create new ways to reach customers while giving consumers more control over how their personal information is used in advertising.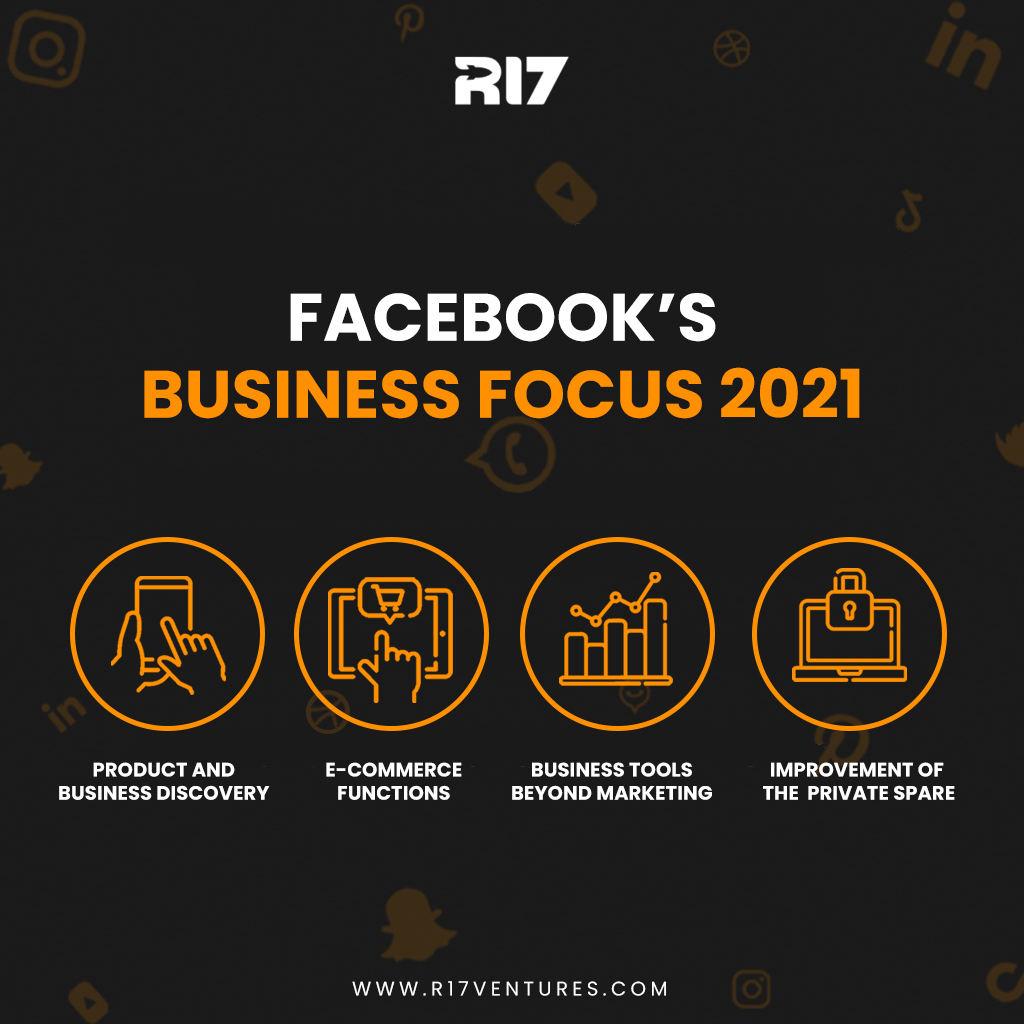 1. Product and Business Discovery
In addition to the new data challenges, an important focus for Facebook is also e-commerce. A notable step in expanding online shopping capabilities is Facebook's expansion of its in-stream shopping tools. With this, the social media giant adapts to the growing shopping behavior of consumers as well as the latest trends in the digital world - aka TikTok's boom and innovations in the form of video-enabled shopping experiences.
In this context, Levy says that Facebook is testing various new user experiences: "First of all, Facebook is testing a new option in users' News Feed that allows them to find content from brands on topics such as beauty, fitness or fashion with a tap and explore content from related brands at the same time".
Tests in this regard were rolled out back in April, when some users saw new prompts in their feeds offering them the option to follow topics of interest to them.
This will help Facebook create more product- and brand-centric lists based on interest for each user. Which in turn will help maximize product discovery.
In addition, Facebook also wants to create improved ad placements based on the content that users interact with. "So if the user is watching a travel video, we could show ads for hotels and flights." Facebook already offers this to some extent through its ad targeting options. But the social media provider would like to be even more specific in this regard, which could open up new advertising opportunities.
Levy says they also try to specifically encourage small businesses. With a new badge that will be displayed on the advertisements of SMEs.
There will now be a new mark below the main display panel indicating that it is a "Small Business". With many consumers looking to support smaller, local brands to help mitigate the impact of the pandemic, this could help improve response.
2. Facebook continues to push into the e-commerce space
As a result of the pandemic, the popularity of Facebook's eCommerce tools has also been growing with the rise of online shopping. One billion people now visit Facebook Marketplace every month. Facebook and Instagram shops, which launched in May last year, now have over 300 million monthly visitors.
The next step is to expand the shop and product offerings via the theme and business discovery feed already mentioned and to expand the shop offerings to the marketplace. At the same time, Facebook Pay tools will be improved to simplify the shopping process.
"Facebook and Instagram are rapidly becoming a one-stop shop for buying and selling. Over the coming years, we will build a modern e-commerce system to meet this demand across ads, community tools, messaging, stores and payments. All of it serves to create a personalized, seamless customer journey in which it becomes easier
to discover a product
to find out about it
to decide to buy
to pay it and
finding it on your doorstep"
- says Levy.
This is a major focus for Facebook right now, as well as almost all major social platforms. As consumers become more accustomed to seeing an item in a social media post and then buying it immediately, new opportunities for e-commerce capabilities on social media will continue to open up. However, e-commerce companies and platforms that fail to take advantage of this change in user behavior are missing out on a significant revenue stream.
3. Facebook's business tools beyond marketing
Not only in relation to its shopping functions, Facebook is planning to expand its offering for companies. In other areas, too, the social media giant is working to further improve its business management tools and processes.
Among other things, new elements are added such as
• job listings
• uploading CVs to user profiles
• improved messaging capabilities
• digital education tools
4. Privacy Enhancement Technologies
Facebook marketers are still grappling with the impact of Apple's ATT update. Because the App Tracking Transparency Framework (ATT) accompanying the iOS 14.5 update has been extremely restricting data tracking for advertisers since April of this year. And there is also Google with its Federated Learning of Cohorts (FLoC) in the near future want to say goodbye to the advertising cookie, new options must be found to ensure the effectiveness of ads.
So Facebook, despite its protests against Apple's update, has no choice but to work to build in new tools that allow for optimal targeting and focus within these new constraints. Specifically on this topic, Levy says that Facebook is working on developing new "privacy-enhancing technologies." This is intended to minimize the amount of personal information that the platform collects. In the same breath, advertisers should still be able to target their advertising campaigns with optimal efficiency.
Facebook is working with industry partners and organizations to establish key best practices on this front, including the Partnership for Responsible Addressable Media (PRAM), that World Wide Web Consortium (W3C) and the World Federation of Advertisers(WFA). It remains to be seen whether this will lead to comparable targeting capacities. But this will be an important element as Facebook tries to deliver better solutions for advertisers in the post-ATT environment.
Facebook is rolling out updates to conversion modeling and events in response to the ATT changes
Recent stats from Apps Flyer show that about 42% of iOS users choose to allow data tracking when they see Apple's ATT prompt. While this is a pretty good number, it also means that the majority of users have in-app data tracking turned off.
This in turn has led to limitations in Insights data for Facebook advertisers. If you also place Facebook Ads, you will benefit from the reduced data flow in the performance reporting most likely noticed it yourself. In turn, the social network is now trying to make changes to its attribution modeling processes to accommodate the lost insights and allow for better targeting control for advertisers.
The most recent changes mainly affect the tracking of events and conversions. As part of this, Facebook now allows advertisers to update their focus event for a campaign without the advertiser having to pause and manually restart the campaign for each change.
Easing the 72-hour reset period for all ad sets optimized for the top 8 prioritized events in Event Manager
As of June 16, advertisers with ad sets optimized for an event prioritized in Event Manager will no longer be paused if they make a change to their event configuration. However, it's important to note that you're still limited in how often you can make changes. For example, after making changes once, you will be blocked from making further changes for the next 72 hours. In addition, some changes may result in limited delivery and reporting.
Let's say you change your event configuration and prioritize your top event to "Buy" instead of "Add to wishlist" because you have a 50% sale in your online store over the upcoming long weekend. In the past, you would have to wait 72 hours and then manually restart your ad campaigns that prioritize Buy, Wishlist, and other events below the changed event.
However, with the recent change, you can start optimizing for buy events right away without waiting for the reset period. However, they would still be limited by the fact that they can only make changes every 72 hours. This will make it easier to keep your campaigns flexible and change your focus based on performance trends.
Facebook also includes estimated conversions in its 7-day click attribution window
Many Facebook advertisers have noticed a significant drop in conversions over the past few weeks as Facebook is no longer able to track them. Many marketers also report large discrepancies between their data reporting tools because they can't connect the dots between Facebook reporting and their actual performance.
Expanding the use of conversion modeling now helps advertisers account for data lost with the ATT update.
In the past, only the 1-day-click attribution setting included this type of modeled data that can account for opt-out user events. Now the use of conversion modeling has been expanded to include it in the 7-day-click default attribution setting.
Including these modeled conversions can lead to a noticeable increase in attributed 7-day-click conversions. However, in cases where there is insufficient data to make estimates, reported results may not include modeled conversions.
According to Facebook, however, it is continuously working on improving its machine learning models and expanding the coverage of the modeled conversions.
Additional flexibility for website conversion campaigns
Finally, Facebook offers more flexibility for advertisers who want to maximize performance for Android users by expanding event options in campaign setup.
This means advertisers looking to target Android users now have more options to optimize their campaigns based on their performance. Unfortunately, however, this will not help you if you want to reach users on their iOS devices.
CONCLUSION: Whoever stays up to date with Facebook's innovations wins!
The changes regarding Facebook's data tracking in response to the ATT update are of a more technical nature. But they have major implications for media buyers and performance marketers looking to maximize their Facebook ad spend. And while modeled data will never be as detailed as actual performance, by providing more insight data consistent with overall performance, Facebook hopes to help marketers see more accurate results for their spend, and then better categorize them.
Facebook's business focus also gives an interesting impression of the opportunities that will open up for marketers on the social platforms in the near future. As savvy advertisers know, Facebook tends to prioritize projects it wants to increase its focus on. The more you approach these shopping experiments and testing new tools, the more your advertising measures will be rewarded with reach.
At the same time, however, you should keep in mind that putting too much trust in the platform can be problematic. As Facebook has shown in the past, its overall priorities can suddenly shift. This, in turn, can end up disappointing brands that were expecting some level of referral traffic or more sales from the platform's tools.
One can only hope that Facebook will be more cautious about such implications as it expands its e-commerce push. So it's wise to think of the shopping platform as more of a "leasehold" and be aware that Facebook can change its mind at any time and choke off your reach.
Nevertheless, it is important to have a certain understanding of the planned focus of Facebook & Co and to know in which direction the social media platforms will move in terms of their user experiences in the near future.
Our media buying team at R17 Ventures is always up to date when it comes to the latest news in the world of social media. Contact us today and we will show you the potential that your online business can achieve with well thought-out paid advertising from experts.