There are 9 new updates coming to Microsoft Ads in August 2022. The news was announced at the beginning of the month.
‍
H2 of 2022 has been an exciting one for Microsoft. July saw the announcement that they would be the advertising partner to Netflix, as the streaming giant plans to roll out lower cost, advertising inclusive packages. August, however, has been just as exciting for the advertising platform that operates ads on search engine, Bing, as well as social network, LinkedIn, as they announced 9 new updates coming to their advertising platform. Here's a look at the 9 new updates.
‍
1. Automative Ads
The brand-new Automotive Ads are exclusive to the vehicle sector. The new ad format will show a picture of the vehicle up for sale together with its year, make, and model, its condition, the dealer's website, its price, and a brief description. The ads will be made available to marketers in the Asia Pacific and Latin American markets in the upcoming weeks after being tested in North America and Europe.
‍
2.Vertical Ads
Depending on the user's search, vertical ads are generated from dynamic feeds and display in various formats. The user must create the ads, which use intent data. The necessary data for the advertisement is sourced by Microsoft AI using the data feed. The new ad format, according to Microsoft, will cut down on the time and resources needed to set up and manage campaigns.
‍
3.Audience Network
New Markets
The Microsoft Audience Network is now available in 64 markets globally, with more markets coming later this year.
New Ad Formats
Microsoft have expanded their Dynamic Remarketing offer to other verticals outside Retail.
Dynamic Remarketing for Travel, Automotive, and Events. Once you have your dynamic data feed, you have two options to get set up with Dynamic Remarketing on the Microsoft Audience Network.
1. Standard Universal Event Tracking (UET): Using your existing UET tag, you can target users who have previously interacted with specific product offerings on your site.
2. UET with additional parameters: You can update your UET tag to pass back additional parameters to give you access to more audience lists, which will allow you to make more granular audience optimizations. With these additional parameters you get access to the following audience lists:
General visitors
Product searchers
Product viewers
Cart abandoners
Past buyers
4. More Bidding Solutions
There are currently three different bid options for video ads.


Additionally, an automated bidding pilot has just begun. To increase conversions on audience campaigns, use Enhanced CPC. According to Microsoft, additional automated bidding options will be made available soon.
‍
5. Customer Data Integrations for Customer Match
Advertisers that use a Customer Data Platform can now connect it to Microsoft Advertising to import customer lists. Current integrations include Ampertiy and Adobe Ad Cloud for Search. More integrations will be available soon.
‍
6. Expanding Audience Targeting New Markets
In-market Audiences are now available in:
Latin America: Aruba, Bahamas, Bolivia, Cayman Islands, Costa Rica, Dominica, Dominican Republic, Ecuador, El Salvador, French Guiana, Guatemala, Guyana, Haiti, Honduras, Martinique, Montserrat, Panama, Paraguay, Puerto Rico, Trinidad and Tobago, and Uruguay.
Asia Pacific: Bangladesh, Brunei, Fiji, French Polynesia, Guam, Maldives, Mongolia, Nepal, New Caledonia, Papua New Guinea, and Sri Lanka.
‍
Similar Audiences are now available in more markets:
Albania, Bosnia and Herzegovina, Hong Kong, Iceland, Japan, Montenegro, North Macedonia, Serbia, South Africa, Taiwan, and Turkey.
‍
7. Smart Campaigns are Expanding to New Markets
Microsoft is now piloting new markets in France, Germany, Ireland, Italy, The Netherlands, New Zealand, and Singapore.
‍
8. Updates to Reporting Experience
A new drop-down menu will help advertisers access all reports. Those reports can be found on the updated landing page grid. You can also filter the grid to quickly access the reports you need.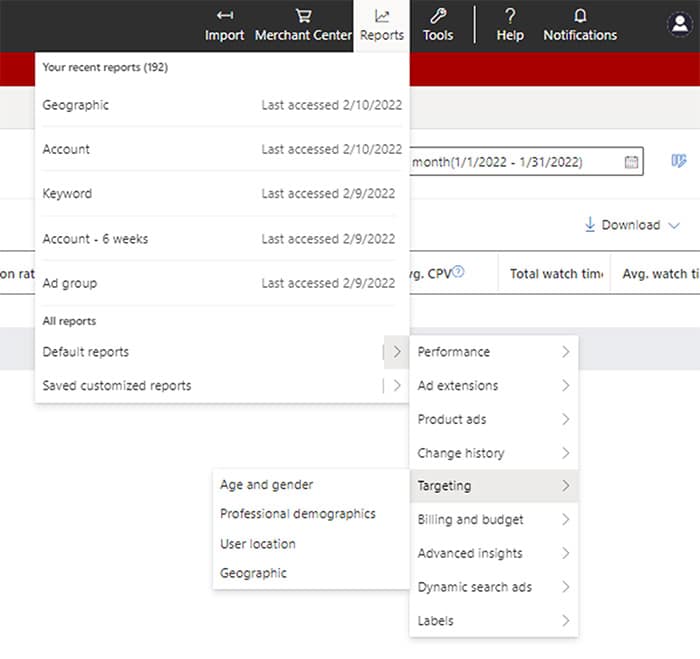 9. Migrate ETAs
August is the last month to migrate Expanded Text Ads (ETAs) to Responsive Search Ads (RSAs). Starting 29 August 2022, RSAs will be the only search ad type that can be created or edited in standard search campaigns. Existing Expanded Text Ads will still serve, but you won't be able to edit or add them.‍