R17 Ventures CEO Raphael Rohner reveals how you can test a product range with the help of paid media - especially Facebook Ads. This approach helps you decide which products will be well received by your customers and which will not. Not only can individual ad sets and landing pages be tested, but also entire business models or, in this case, product ranges. We had a very special case at Lichterkettenshop - one of our ventures: In preparation for Christmas, we launched a new Christmas range for the first time this year. We received a Christmas catalogue of about 250 products from our main supplier. And since we had no historical data, we logically didn't know which products would sell how well.
‍
Data-driven assortment design based on Facebook Paid Media
A plausible approach would of course be to order a small quantity of each item, look at the sales figures and then reorder afterwards. But a data-driven assortment design makes more sense because the products can be bought at particularly good conditions and the warehouse is not built up unnecessarily. So how do you find out which of the 250 products sell well? Do Advent calendars or Christmas baubles sell particularly well? Christmas trees or even other lights? We were able to answer this question quite well with Facebook Paid Media, and we did so by testing this.
3 criterias for assessing the success of a Facebook test campaign
First, we have set up KPI's that we will use to measure the success or failure of this Christmas test campaign. What makes a product successful and what does not?
‍Criterion No. 1: Do we achieve a ROAS >5 in the top of funnel? The most important of the three criteria is the question: Do we get a ROAS of 5 or higher in the Top of Funnel, i.e. with new customers? Once we have achieved a ROAS of at least 5, the next criterion is: the more expensive the product, the better. Because then the absolute profit margin is also higher. So is the product expensive enough? Criterion No. 3: Order by the end of October It must also be possible to place orders with the supplier by the end of October at the latest.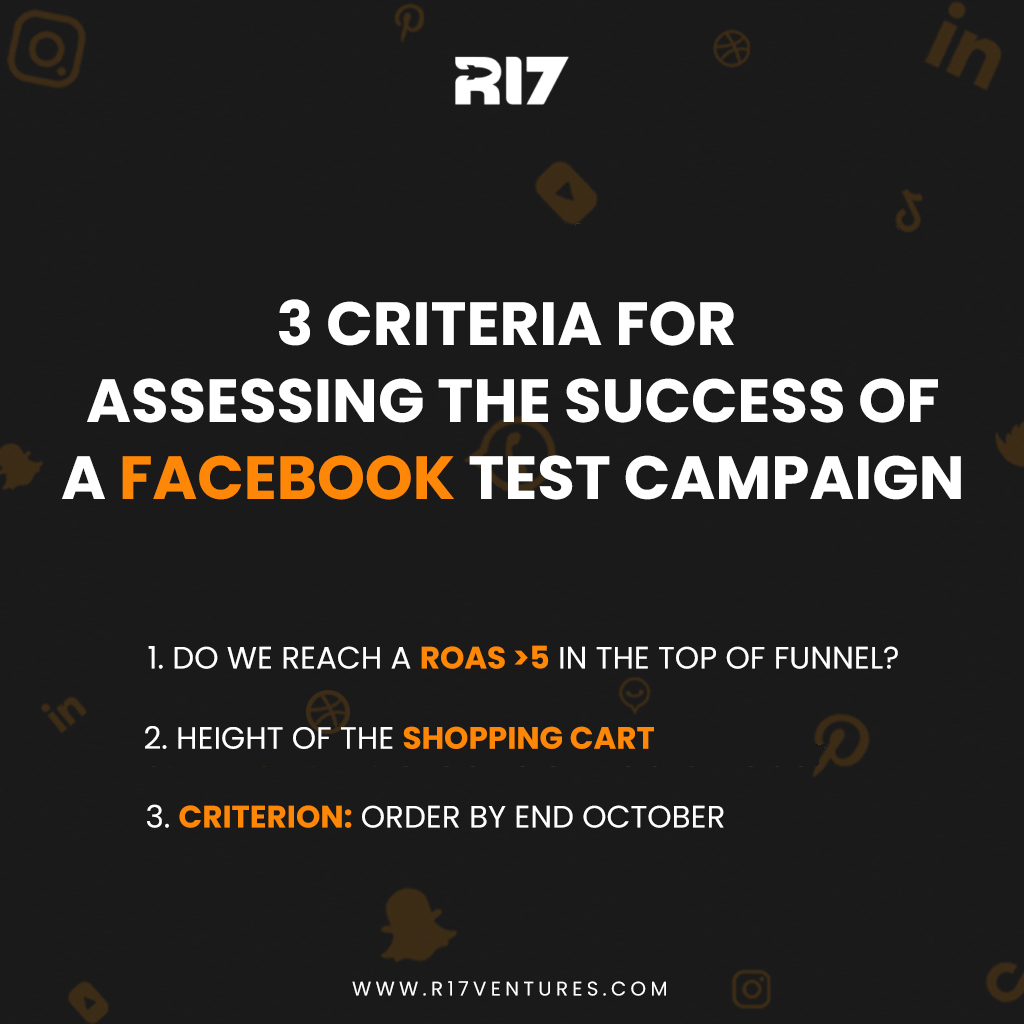 How to design the perfect landing page or product page for your test campaign
In our case, we created an ordinary product page on Shopify for our Facebook Christmas test campaign. However, instead of the 'Add to Cart' button, we placed a 'Pre-Order' button and stated relatively transparently: Delivery will take place on 22 October. In addition, for products where the AOV (Average Order Value) was low, we created sets of several items to increase the basket value. We also worked relatively heavily with upselling. All of these factors provide the ideal starting point for your product page to launch the Facebook test campaign.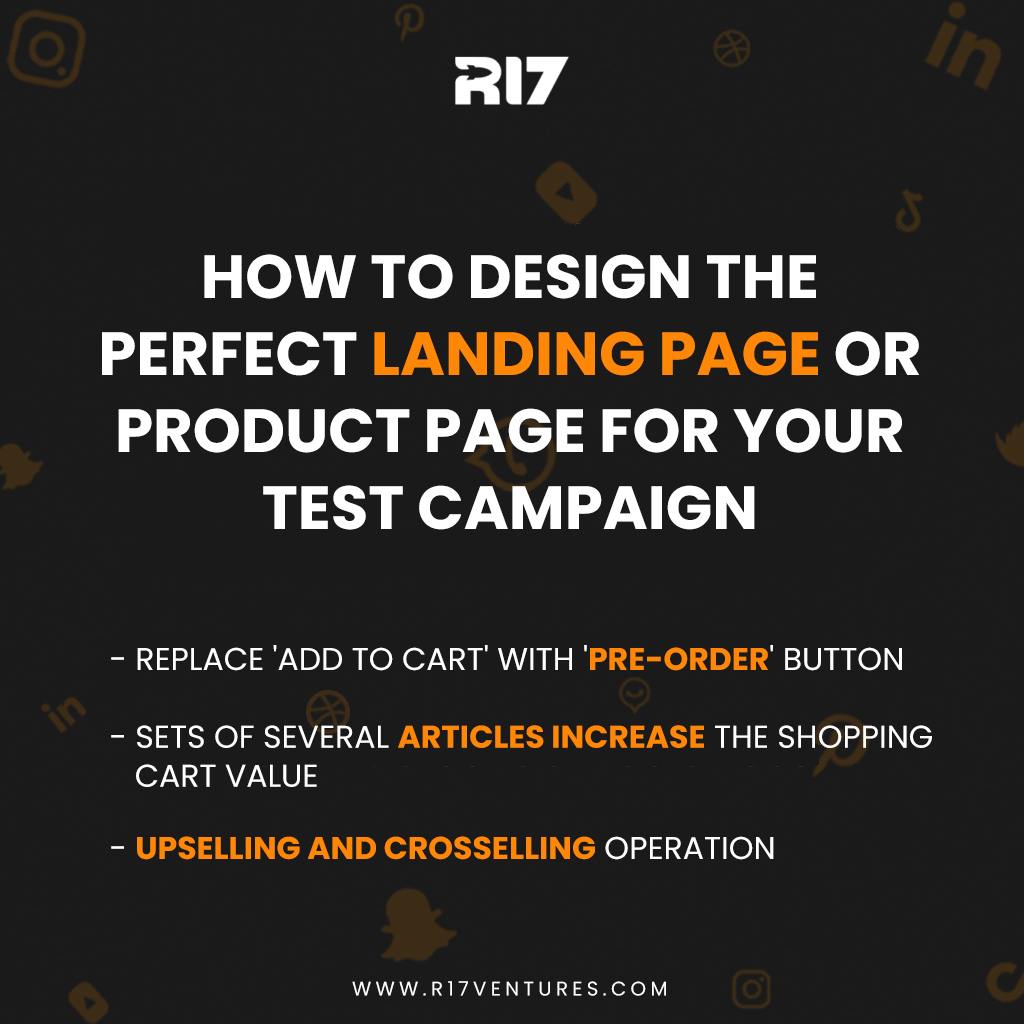 How to create your Facebook test strategy
In our Christmas lights shop campaign, we had 12 products tested against each other at the same time. To do this, we created an ABO (Ad Set Budget Optimisation) campaign that contained 5 ad sets. We chose the 'Expand' option for the top interests in order to reach as broad a target group as possible. For each ad set, we tested 3 products against each other. In addition, we also created a Dynamic Ad, in which we included all animations (i.e. all 10 products with the corresponding advertising texts). We tested all these ads against each other and found out relatively quickly in which ad sets the winning products were. We were also able to compare them in context with all the other products. Finally, we applied exactly this set-up to all 30 products in order to test them thoroughly. In parallel, we put the entire product catalogue online and observed what resulted from side traffic, i.e. visitors coming from other advertisements - such as Google Ads. Are other products selling that we have not specifically advertised in these TOF Testing Ads? Overall, we tested the products for 14 days each and then swapped to the next 10 products, again for a period of 14 days each. Finally, we evaluated the whole thing and were able to compare the individual slots and products against each other. And not only that: we were also able to put the effective Shopify sales figures into context.
What were the results from this test?
We learned many exciting things during this experiment. For example, we noticed that often either only half of the sales were tracked or the other half of the sales came via other side traffic. To be precise, people who visited the online shop without having specifically come via this Facebook product advertisement. We then combined these two aspects: the Facebook Ads ROAS page and the effective sales figures from Shopify. And so we finally managed to put together an optimal Christmas assortment. We are now optimally prepared for the Christmas season: we were able to keep the stock low and increase the number of product orders. In addition, we already know which products we can push in the top of funnel and how strongly in order to generate new customers.
CONCLUSION: Our most important key learnings
From our product range test with Facebook Paid Media, two important key learnings emerged for us. 1. 1. the framework is applicable in many areas In our case, we tested the whole thing for a Christmas product range. Of course, such a test can also be applied to many other business cases:
You can test a whole business model
Determine the demand for specific products
Test the adverts (ad creatives + ad texts) yourself
2. Compare Shopify sales with Facebook ROAS You should definitely look at such a test over a period (so-called attribution window) of 7 or even 14 days. Especially since the iOS 14 update, a relatively large number of sales are either not tracked or there are discrepancies about the accurate figures. Therefore, it is important to always compare the effective Shopify sales with the tracked Facebook values.